Our clinic team consists of several experienced veterinarians, veterinary technicians (TFAs), agricultural staff, and the administrative team.
We train veterinary assistants and office management assistants in our equine clinic.
Dr. med. vet. Dirk Fister
Veterinarian, International FEI Veterinarian
Mobile: 0172 – 419 22 00
E-mail: dirk.fister@pferdeklinik-bilsen.de
After his studies, Dr. Dirk Fister trained with Dr. Cronau, Dr. Große-Lembeck and in the equine clinic of the University of Veterinary Medicine in Hanover. As a specialist veterinarian for horses, he established his first own practice in Bönningstedt in 1984. He received his license as a veterinary clinic for horses in 1991 in Borstel-Hohenraden. In 2001, the clinic moved to the spacious new building in Bilsen.
As a member of various international veterinary associations and participant in worldwide congresses, he follows the latest developments in equine medicine.
Dr. Fister served as team veterinarian for the A squad of German show jumpers from 1987 to 1994. The highlight was the veterinary accompaniment of the show jumpers to the Olympic Games in Barcelona in 1992.
Specialties/Focuses:
General surgery
Orthopedics and orthopedic surgery
Traumatology
Internal medicine
Gynecology and andrology
Ophthalmology
Dr. med. vet. Lina Kröger (née Fister)
Veterinarian
Mobile: 0160 – 780 92 53
E-mail: lina.kroeger@pferdeklinik-bilsen.de
Dr. Lina Kröger has been associated with the veterinary profession and horses since childhood. She studied veterinary medicine in Budapest, Giessen and Berlin from 2007 – 2014 and wrote her dissertation at the University of Veterinary Medicine in Hanover on "The significance of radiographic, scintigraphic and clinical findings on the thoracic and lumbar spine of riding horses with and without rideability problems".
Specialties/Focuses:
Orthopedics
Discontinuity diagnostics
Imaging diagnostics (X-ray, scintigraphy)
General surgery
Dr. med. vet. Kerstin Oberbeck
Veterinarian
Mobile: 0172 – 993 14 40
E-mail: kerstin.oberbeck@pferdeklinik-bilsen.de
After completing her studies in veterinary medicine in 1989, Dr. Kerstin Oberbeck took up her assistant position with Dr. Fister and contributed to the development of the equine clinic. In 1991/1992, she completed her dissertation on equine tendopathies at the TiHo Hannover. In 2019, she celebrated her 30th anniversary of service.
Dr. Oberbeck is very active in outside practice and sees many regular clients.
Specialties/Focuses:
Orthopedics
Gynecology and andrology
Dentistry and maxillofacial surgery
Ophthalmology
Marilia Ferrari Marsiglia (M.A.)
Veterinarian
Mobile: 0173 925 48 40
E-mail: info@pferdeklinik-bilsen.de
Marilia Marsiglia is Brazilian and graduated from São Paulo University – USP, Brazil in December 2014. From 2015 to 2017, she completed the "Residency Program" in the Department of Large Animal Surgery at São Paulo State University – UNESP. There she was responsible for the admission and management of new cases, the care of inpatients in the stable, as well as performing examinations and assisting in surgeries. Subsequently, she did her Master's degree in Equine Surgery at the Jockey Club São Paulo. Marilia Marsiglia has been a member of the Bilsen Equine Clinic since July 2021.
Specialties/ Focuses:
Care of the clinic horses
Anesthesiology
Imaging diagnostics (X-ray, scintigraphy)
Anja Hohlbaum
Team leader of the veterinary assistants
Melina Maeder
Trainee veterinary assistant
Kathleen Müller
Trainee veterinary assistant
Lynn Juchniewicz
Trainee veterinary assistant
Lena Kobbe

Trainee veterinary assistant
Manfred Nitsch
Stable staff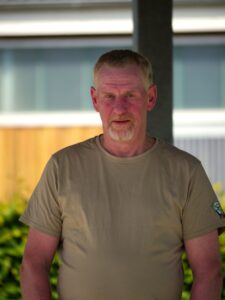 Jennifer Rehse
Stable staff
Maik Andresen

Stable staff
Andrea Fister
Agricultural entrepreneur
Accounting
Sabine Schilling
HR
Quality management
Julia Eggert (née Felsch)

Team leader office
Joeline Friemel
Trainee office management
Marie Helene Fister
Working student
Sophie Krüger
Clinic manager