The next (free) online webinars are in the starting blocks! In winter 2022, we will continue our successful webinar series.
The following topics are planned:
"Discontinuity diagnostics – procedure, possibilities, therapy" (November 2022).

"Orthopedics in horses – what is possible today?"

(February 2023)
You would like to be part of it online? Send us an e-mail at sophie.krueger@pferdeklinik-bilsen.de to be added to the mailing list.
To celebrate the 20th anniversary of the Bilsen Equine Clinic, we kicked off 2022 with a series of webinars on a variety of equine health topics in collaboration with Derbymed.
Dr. med. vet. Dirk Fister kicked things off on January 6, 2022 with a lecture on the history of the Bilsen equine clinic, which was followed by an outlook on the coming period.
This was followed on January 13, 2022 by presentations by Dr. med. vet. Kerstin Oberbeck on the possibilities and limits of external practice and by Philipp Hartmann (Derbymed) on the subject of doping.
Uwe Schenk gave a lecture on the history and special features of Icelandic horses on January 20, 2022, followed by a lecture by Dr. med. vet. Dirk Fister on the subject of arthrosis from a veterinary point of view, using the example of spavin, and an exciting lecture on the possibilities of prophylaxis and joint nutrition in equine arthrosis by Philipp Hartmann.
The finale of the series of events was given by Dr. med. vet. Lina Kröger with a very descriptive lecture, backed up with many pictures and videos, entitled "Operations – from diagnosis to follow-up".
On our YouTube channel you can watch the recordings of all presentations again: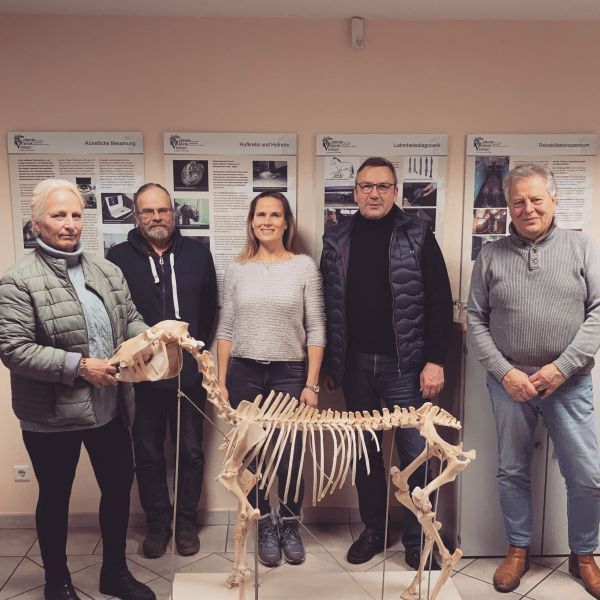 "The History of the Bilsen Equine Clinic and Outlook for the Times Ahead" (Dr. D. Fister):
"Possibilities and limits of external practice" (Dr. K. Oberbeck) and "Doping" (Philipp Hartmann):
"The history and characteristics of Icelandic horses" (U. Schenk), "Osteoarthritis from a veterinary point of view" (Dr. D. Fister) and "Possibilities of prophylaxis and joint nutrition in equine osteoarthritis" (P. Hartmann):
"Operations – from diagnosis to follow-up" (Dr. L. Kroeger):